ASN's Web Site - How to Access Certain Information
Access Your State's Newly Enacted Notary Laws
ASN Hot Tip, March 2009-#1
We at ASN know that you like, and need, to keep abreast of notary law changes in your commissioning state. The next time you log onto www.asnnotary.org as a member and are taken to your control panel webpage, click on "State Law Updates" under "More Features" on the right side of the page. You will be taken to our newly enhanced State Law Updates webpage.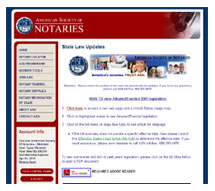 ASN now provides you immediate access to information on newly adopted notary laws, by state.

Visit www.asnnotary.org, and log in (see left-hand margin of the page) with your ASN member ID number and password.
Look under HOW TO view Adopted/Enacted legislation: and select Click here. A new window with a map of the United States will open. States that have adopted new legislation will be highlighted. If your state is highlighted on the map, click on it and a window will open containing specific information on the new legislation. You can read a summary of the newly adopted notary law, check the enactment date and view the entire text of the bill by just clicking on its name.
Many bills having to do with notaries public are introduced into the various state legislative bodies while they are in session. Only a portion of those bills actually become law. To avoid confusion, ASN will present to you only those bills that have been passed by the legislature and signed into law by the Governor of that state.
This new web site feature stems from our constant efforts to make your membership web site, www.asnnotary.org, work better for you and provide you more of the information and guidance you expect from ASN. Make it a habit to log-in often, so you can stay on top of our latest improvements!

Your data is safe with us! (read our privacy and security policy)