Employee Notary Issues
Common Workplace Challenges for Employee Notaries
ASN Hot Tip, September 2009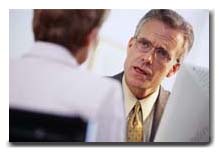 If being a notary is one of your job responsibilities, then you may have encountered some of the issues listed here. (If you haven't faced these challenges, you may wish to thank your employer for maintaining a notary-friendly workplace!). A notary trained in notary law and procedure, who is aware of the duties and obligations of his/her notary commission, is less likely to be coerced or taken advantage of in the workplace.
Challenge: The Personal Appearance Requirement
The first rule of notarization is that the signer MUST personally appear before the notary at the time of the notary transaction. In many cases, employee notaries are presented with documents that have been signed by customers who are not physically present before them… the employee notary is expected to simply sign and seal the notarial certificate on the signed document. Sometimes the document presented by the employer for "notarization" is not even signed. In most all cases, the pressure to sign/seal a notarial certificate without the signer present comes from a supervisor; in the worst cases, the employee notary feels his/her job is threatened unless the improper deed is done.
In keeping with the times, we've also noticed many inquiries from members who ask if they may participate as notary in a videoconference or via web cam. In most all circumstances, the signer is NOT in the physical presence of the notary, but will "appear" before the notary onscreen. No matter the circumstances, the notary and signer must be in one another's physical presence for notarization to occur. Obviously, this requirement is not met when the signer "appears" before the notary onscreen instead of in-person.
ASN Recommends: An employee notary must be firm and refuse to sign/seal a notarial certificate unless there is a proper, full notarial act with the signer physically present before the notary. There are simply no exceptions to this most important, fundamental rule.
Challenge: Access to Notary Training
It is essential that employers find a way to make notary training available to employees. This is particularly true of companies that have large numbers of notaries on staff. The need is even more urgent in states with no mandatory notary education requirement. Any employer should want to ensure that employee-notaries who officiate on behalf of the company are knowledgeable and competent. Education is the single most powerful weapon against liability, for both the notary and the company.
ASN Recommends: Today, there are more opportunities than ever for a notary to receive notary training, whether through public seminars, online training or private classes. Talk to your employer about available education options. ASN, for example, offers online training and phone training nationwide, and live training in limited areas.
Challenge: Control Over One's Notary Commission, Stamp, Supplies and Other Records
Often, an employer who pays for the employee notary's commission wants to "safeguard" the notary's important documents and tools, such as the original notary commission certificate, official seal, and recordbook. ASN hears regularly from notaries who know almost nothing about their notary commission because they have no access to their records or seal (the seal is held by a department manager, and doled out only when a notarial act is required).
This problem is compounded by employers who insist on keeping a departing employee notary's commission certificate, seal and other items "because the company paid for them."
ASN Recommends: Employee notaries must insist on physical control of their notary items if they currently do not have it. In many states this is a statutory requirement, and everywhere else it is strongly recommended. Take your notary commission certificate, tools and records with you when you leave your current employer (unless you are commissioned in a state whose statutes provide exceptions). If your employer resists this, you may wish to contact ASN or your state notary division for advice.
Challenge: Employee Not Allowed to Maintain a Recordbook
One of the best ways a notary can guard against a claim of malpractice or impropriety is to keep a recordbook (notary journal) and to consistently record the facts of each and every notarization. Because it takes an extra minute or two for the customer and the notary to complete a recordbook entry, an employer or supervisor may dislike the employee notary's insistence on documenting every transaction. The employer doesn't want to hold the customer up, even though the recordbook helps to protect not just the employee notary, but the employer, and the customer! Proper use of the recordbook also requires personal presence of the signer—the golden rule of notarization that employee notaries are often asked to break.
ASN Recommends: Remind your employer that keeping a recordbook is good, sound notary practice that protects everyone involved with the notarial act. In some states, it's required by law.
Challenge: Employer Has No Company Policy Regarding the Employee Notary's Actions in the Workplace
The lack of a comprehensive policy outlining the employee notary's role and duties during business hours is an oversight suffered by many employers. If an employer is going to limit the employee notary's duties during business hours, then some thought should be given to developing a policy that ensures the actions of the employee notary are within the scope of the state's notary law, and that no improper discrimination will occur.
ASN Recommends: An employee notary can suggest to an employer that the company's general counsel and/or human resources department be consulted regarding notary policy, notary law and vicarious liability. Once a policy is developed, it can be posted in the workplace's public area as an informational service to customers.
Challenge: Employer Attempts to Control Employee Notary's Activities Away From Work
While an employer might direct an employee notary's activities during business hours, the employer has no say whatsoever over an employee notary's activities outside the workplace. This is true even if the employer paid for the employee notary's commission, seal or recordbook. Likewise, notarial fees earned by the notary outside his/her place of employment belong to the notary; the employer cannot attempt to take them on the grounds that it paid for the notary's commission and supplies. The employer is not liable for any notary acts performed by the employee notary while the employee notary was acting as a notary on his/her own time away from work.
ASN Recommends: The employer and employee notary should have a frank discussion regarding the employee notary's role and duties both on and off the job.
Challenge: Lack of Company Support for Professional Membership
We may be singing to the choir here since you are reading this because you are an ASN member, but we'd like to see more employers support their employee-notaries' interest in belonging to professional organizations like American Society of Notaries. In spite of the obvious benefits, a surprising number of employers view notary organization memberships as an "extra," and tell their notaries that dues must be paid out-of-pocket. The benefits that organizations like ASN provide (toll-free technical support, notary law updates, discounted supplies, newsletters, education, reference books and more) are well worth the investment in dues—especially when dues are as modest as ASN's ($39 for one year… that's just 75 cents a week).
ASN Recommends: Get the most out of your ASN membership by using our toll-free technical support line (we like to say, "Don't guess… ask!"), reading your Hot Tips, or browsing our web site for the latest educational offerings and information. Then tell your employer how the information and support we provide helps you avoid improper actions that can lead to sanctions or liability. Your membership in ASN is a small investment for a lot of support and information, and we're always glad to help you.

Questions, comments on this Hot Tip? Email support@asnnotary.org
---
Employee Notaries, Beware!
ASN Hot Tip, April 2008-#2
The Situation: A notary employee was asked by his employer to "notarize" (by simply signing and sealing) a contract between the employer and the other party to the contract. The contract had not been signed by either party when it was given to the notary, and neither party would be in the presence of the notary for a proper notarial act. The employee notary had worked for many years for this employer, and there had never been a problem with anything the employer had asked him to do in the past, either as a notary or as an employee. The notary filled out the notarial certificate as if he had performed a notarial act, signed it and put his notary seal on the notarial certificate. He returned the contract to his employer without giving a second thought to what he had just done.
The Notary's Dilemma: The notary was shocked when he was later served with a civil lawsuit filed by the other party to the contract mentioned above. Not only was he being sued for performing a notarial act without the other party being present, the lawsuit also alleged that the employee notary had forged the signature of the other party to the contract. In fact, the notary had not forged the other party's signature on the contract, but, evidently, someone else had.
The Solution: The only solution for this notary was to retain an attorney. He couldn't go back and tell his employer that he was not willing to break the law; he had already broken the law. The best this notary might now hope for is to prove that he did not forge anyone's signature on the document in question. There will undoubtedly be unpleasant consequences for performing the notarial act without the signers present and for completing a false notarial certificate.
This is a cautionary tale for employee notaries and their employers. If a notary has improperly performed a notarial act as part of his employment, both the notary and the notary's employer are subject to unlimited liability if the improper notarial act caused a party to the document to suffer damages.
Now is the time to sit down with your employer and discuss procedures for performing notarial acts as an employee. Inform your employer of the requirements for a properly performed notarial act. Tactfully tell him that breaking notary laws is NOT a part of your job description.

Questions, comments on this Hot Tip? Email support@asnnotary.org
---
Workplace Rules on Performing Notarial Acts
American Notary, Issue 2007-#5
Many notaries perform notarizations primarily in the workplace. Often, the employer paid all costs for the notary commission because the employer wanted a staff notary or notaries readily available to notarize for the company's business transactions. So... what happens when clients and even non-clients ask to have documents notarized that have nothing to do with the business at hand?
Remember that a notary is potentially liable for any of the document signer's losses that can be traced to an improper notarization. The notary's employer is also potentially liable for such losses if the notary was acting as an employee for the company when the notarization took place (or even if the notary was notarizing on company time). In order to limit their exposure to liability, companies might establish rules governing the types of documents that can be notarized and for whom notarizations can be performed.
For example, the company or organization may have a rule that only clients or members may have documents notarized by company notaries. There may be a rule regarding fees for notarizations, such as "Don't charge clients or members, but charge the going rate for notarizations to non-clients," and so forth. Company managers may want notaries to steer clear of certain types of documents that are frequently the cause of litigation, such as last wills and testaments.
These rules make sense for the companies. Their notaries are paid to perform notarizations and do other work for them. Having people coming in and out all day for notarizations unrelated to company business would be a distraction. A notarial error on a document could embroil a company in an expensive and time-consuming legal battle and perhaps result in monetary damages against the notary and the company.
Before establishing rules about notarizations, however, a company's manager should consult the applicable state notary laws. Some states have statutes prohibiting companies from refusing to notarize for non-clients. Some also have statutes forbidding a notary to refuse to notarize if the person or persons have the money to pay the applicable notarization fee. Some states lack any guiding statute on this matter, but their state notary authorities have written a rule saying that notaries public are public officers and must be available to the public. In these cases, a company or bank may not instruct its notaries to outright decline to notarize for people who are not clients or members.
Outright declining to notarize for a non-client, in a state that forbids notaries to refuse to notarize, could generate a complaint from the rejected nonclient to the appropriate state agency. The notary who refused to perform the notarization because of company policy will be the one to receive the unpleasant letter or phone call from the agency in charge of disciplining notaries public. If such policies having to do with clients or types of documents are present in your workplace, this may be a good time to review them officially with management.
Finally, some states have no statutes or rules about notarizing at the place of business, and the notary section of the Secretary of State's Office may not have an opinion, either. Therefore, reasonable restrictions on client versus non-client notarizations, charging for notarizations, and notarization of certain "high-risk" documents may be present.
Just remember that no matter what rules are in place at work, any notary may decline to notarize based on statutory requirements or good notarial practice. If, for example, the client has a document with no notarial certificate and cannot understand the notary's explanation of the difference between an oath and acknowledgment, the notary will have to decline to notarize on that basis. A notary will always decline to notarize for a client who is under the influence, to use another example.
The point is, state statutes or company rules may prevent a notary from outright refusing to notarize, but the notary STILL must assess whether all the required elements for notarization are present. If any are missing or unmet, the notary must ultimately decline to notarize.

Questions, comments on this Hot Tip? Email support@asnnotary.org
---
What to Say to Your Employer
American Notary, Issue 2007-#5
What can you do or say when your employer is pressuring you to violate lawful notarial procedure?
ASN customarily counsels employee notaries to remain calm, and focus on simply telling your employer the facts. Be apologetic, but firm while informing your employer that you cannot perform an illegal notarization. Help your employer understand that you are simply following your state's law, and don't wish to be coerced into committing a crime for which you may be punished.
Explain that not only will you the notary be liable for any harm that might result from the improper notarization, but your employer could share liability because you performed the notarization as a duty of your job, and at your employer's insistence.
Finish by offering a lawful notarial solution to your employer's situation. If you need help, don't hesitate to phone ASN!

Questions, comments on this Hot Tip? Email support@asnnotary.org

Your data is safe with us! (read our privacy and security policy)