Vulnerable Signers
Protecting Vulnerable Signers
ASN Hot Tip, December 2009-#2
Not long ago, a witness to a power of attorney signing called ASN with serious misgivings about the circumstances of the transaction.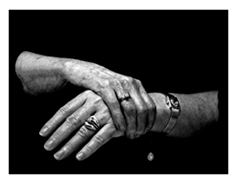 This person stated that a family member of the (very ill and semiconscious) signer took the signer's hand, put a pen in it, and guided the signer's hand in a crude version of the signer's signature. The presiding notary stood by silently, then affixed her signature and seal on a notarial certificate for acknowledgment by an individual.
A couple of things were clearly very wrong with this incident, starting with the fact that the "signature" placed on the document was not a cognizant act of the signer. He was too incapacitated to make his signature or a mark himself, or to even ask that someone else make his signature at his direction.
The signer's comprehension of the transaction, and willingness to sign, are also in doubt since the notary did not even attempt to converse with the signer. The notary relied on the word of the family member that the signer would agree with the terms of the power of attorney document. This was a serious breach of notarial procedure and left the ill, vulnerable signer open to possible abuse of power by the family member.
Had the notary done her job correctly, she would have refused to proceed with notarization the moment she realized the signer was not physically or mentally alert enough to act on his own. The notary would have informed the family member that the signer was obviously in no condition to execute a document, and to call her again if the signer became lucid, or to consult an attorney for additional guidance.
This would have been the right choice even if the notary was convinced she was helping the signer and his family in a tough situation. No matter how difficult the circumstances, every notary must stand strong and insist on correct notarial procedure, to ensure the greatest degree of protection for everyone connected to the transaction.

Your data is safe with us! (read our privacy and security policy)